OPTIMAL OR SIZEWARRIOR or may be both?
This page shows you our TOP products from the Classical Optimal Penis Weights system,to the SIZEWARRIOR.It compares them and it presents a special limited time offer to buy them both at a very reduced price(see below).By offering the classical Optimal and the SIZEWARRIOR,both with custom weights or without weights,we target the whole spectrum of potential users of penis weights.That includes people of any initial penis size,and any budget(no matter what is your budget,you will find here a system you can afford).For in depth descriptions of the systems,as well as a great amount of background and learning critical material about all the penis enlargement alternatives available and the truth behind them,just follow the OPTIMAL or SIZEWARRIOR links further below.This may be the only opportunity you have to be exposed to devices that actually enlarge your penis safely.Take the time to follow our links and check out our information,our products and our prices.More than anything else try to find out if we are worthy of your trust.Following the links you may find ways to contact us by e-mail or by phone,for guidance and questions that you may have.

Our devices are tough,comfortable and easy to use and some users report hanging over 20lbs of weights with all of them.Not only that,unlike the hangers based on Velcro(slip),hose(painful) or vacuum(bleeding and blisters),all our systems really work with HEAVY weights necessary for real penis enlargement.(beware of light weights that are used all day.In order to increase penis size you need weights that are really heavy and have to be unloaded every ten to twenty minutes to allow normal blood flow to the penis,so if it can be used all day it means it will not work.)
WHAT IS THE SIZEWARRIOR PENIS WEIGHTS SYSTEM: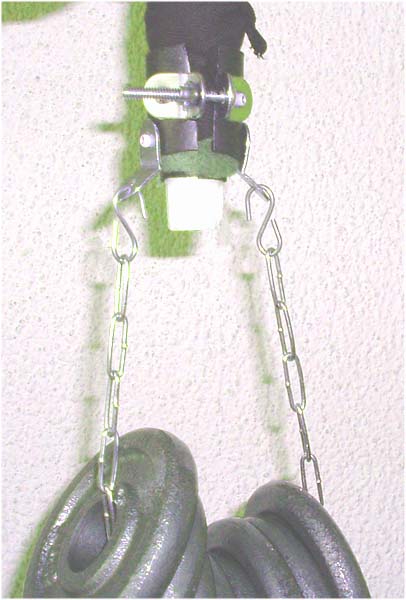 Link To the SIZEWARRIOR Special Offers Site
Upon the basis of the many years of experience with the classical Optimal weights system, we developed the sophisticated SIZEWARRIOR which allows comfortable use of the attachment of weights to your penis and is the ultimate penis weights attachment (hanger) available.You can choose your SIZEWARRIOR size between 3 sizes,that cover any initial erect penis size from 3" to 8 1/2".
WHAT IS THE CLASSICAL OPTIMAL PENIS WEIGHTS SYSTEM(A.K.A the shaft whizard):

Link To The Classical Optimal Special Offers Site
Since 1997 the workhorse of penis enlargement.Along over 10 years of experience,we perfected the most efficient penis weights device.The most affordable yet most effective system to enlarge your penis with weights,and also the most popular,used by thousands of satisfied clients which accomplished their most important goal in life: a bigger penis,using the Optimal system.Any Classical Optimal system comes with two devices that cover any initial erect penis size from 3" to 7".(you don't have to choose,it comes with both)
COMMON FEATURES OF THE CLASSICAL OPTIMAL AND THE SIZEWARRIOR:
Both systems are comfortable,efficient and allow the maximal weight stretch possible with any system whatsoever,and therefore fast and sure results(both carry a results guarantee).They both come with custom steel weights,and necessary accesories,as well as printed material with detailed instructions,but can be purchased without weights too.
HOW TO CHOOSE BETWEEN CLASSICAL OPTIMAL AND THE SIZEWARRIOR:
Both the Classical OPTIMAL and The SIZEWARRIOR are top of the line.The classical Optimal can be bought with the "Optimal Penis Enlargement Manual",and "The twelve secrets of penis enlargement" two exclusive penis enlargement books(together around 200 pages of no nonsense must read penis enlargement material,not available anywhere else),that cover everything you wanted to know about penis enlargement and you did not dare to ask.The SIZEWARRIOR comes with an instructions book that includes also photographs illustrating its use.Both systems are the two most efficient and comfortable way to hang heavy weights from your penis(some of our customers report to have hanged over 20Lbs of weight with comfort).It is difficult to choose between them because they are both top of the line,but you should check out the links above to see what conbination of features is the one that meets your needs and your budget.Nevertheless if you can afford the SIZEWARRIOR,then go for it because the majority of people that used them both claim the SIZEWARRIOR is easier to use.Still many of them claimed they prefer the OPTIMAL system because of the same reason and also because you get two devices of different sizes for the price of one,so you may prefer to have them both to decide for yourself which one is the best for you.Because of popular demand we created the mixed SIZEWARRIOR-OPTIMAL complete package.
BUY A SET OF BOTH THE OPTIMAL AND THE SIZEWARRIOR SYSTEMS FOR A REDUCED PRICE!
Cannot choose between both systems?Want them both?Now you can have them for a special reduced price(for a limited time only) and with FREE THIRD DAY INTERNATIONAL EXPRESS DELIVERY!!!
This is what you get:
1)A hard copy of the Optimal Penis Enlargement Manual(with all the techniques of penis enlargement that you will not find anywhere else explained in great detail)
2)The Optimal patented attachment of weights to your penis.
3)Eight lbs of custom first class steel penis weights(not available anywhere else)
4)A hard copy of the book "The twelve secrets of penis enlargement".
5)A SIZEWARRIOR device the size of your choice.
6)The six months results guarantee for both devices.
7)International third day express delivery .
To order the Complete advanced Optimal plus SIZEWARRIOR System special offer,click here.
If it ever cross your mind to attempt a home made solution to hanging weights from your penis,our advice is don't(it will take you years to find a thing that really works,if you are very very lucky,say one in one thousand),but if you are only interested in spending as little as posible in something that will work right the way,we have something cheaper than a do it yourself hanger that actually works.
For the FOOTPLUS device,Click Here...